DELIVERIES
Deliveries
We will try to despatch products so that delivery can be made within a reasonable time but we cannot be held responsible for any external factors which are out of our control which may delay delivery.


Faulty Items
If you think that an item is faulty please contact us immediately.

Of course, if there are any problems with your order which are out of your hands, such as damages, manufacturing faults or discrepancies then we will take full responsibility for a return to us. We do ask that all problems are reported to us within 48 hours of receiving the goods, in order to ensure that we can replace/refund.

In most cases, we will ask that you forward on imagery of any damages or faults via email, with your order reference number - this allows us to quickly resolve any issues.

Please note, when damages occur we will first offer a full replacement - refunds can only be given when no replacement product can be supplied. Damage due to misuse, alteration to the product, or negligence is not covered under our returns policy and refunds cannot be given if these terms are breached.


Non Returnable Goods
Any items that have been ordered as select few items which we cannot accept returns on. These items include personalised, bespoke or special order items, all of which will be clearly labelled as non-returnable before purchase.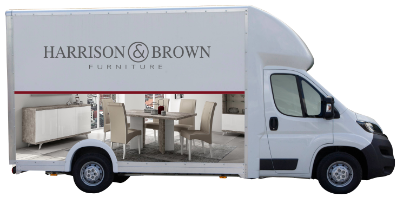 Harrison & Brown Delivery Van